The Koralmbahn high-speed railway
The Koralmbahn high-speed railway – a crucial investment in Carinthia's future
The Koralmbahn will link different parts of Europe – and Carinthia is a central part of this network. As a section of Austria's new southern railway line, it will provide a safe, speedy link between Styria and Carinthia and also include the neighbouring countries of Hungary and Italy.
From Styria to Carinthia and back:
Safe and fast like never before
As one of Europe's most significant infrastructural projects, the Koralmbahn high-speed railway with its scheduled completion date in 2023 will take passengers to their destination at unprecedented speed. The trip from Graz via Leoben, Judenburg, Friesach and St. Veit/Glan to Klagenfurt, now a three-hour journey, will in future take just 45 minutes, thanks to a maximum speed of up to 250 km/h.
The route will lead through the mountain massif of the Koralpe, which is also responsible for the second name of the Koralmbahn – Koralpenbahn. This route through the mountain range that separates Styria and Carinthia is the core element of the high-speed railway link with its length of 126 kilometres. The Koralm tunnel will have a length of 33 kilometres.
A visionary project – a technical tour de force
It took three gigantic tunnelling machines with 10,000 hp to drill a tunnel through the Koralpe in what was a veritable tour de force. On the Styrian side, drilling commenced in early 2013 in Leibenfeld. Carinthia followed suit in 2015, starting in the Lavanttal valley. The construction also set the world record for the longest forward thrusts, with six million cubic metres of excavated rock.
From engineers to machine technicians and blasthole drillers, this project required the expertise of a range of skilled professionals with all their knowledge, creativity and experience. It thus made an invaluable contribution to the economic future of the participating regions.
Carinthia's economy – beneficiary of the Koralmbahn
A well-developed infrastructure and diverse mobility concepts are some of the key factors for the future success of businesses. The Koralmbahn is part of the new southern railway connection and strengthens the Baltic-Adriatic corridor through Europe, also in terms of rail freight transport. Carinthian companies who rely on rail freight will benefit enormously from the new connection and strengthen their international competitiveness as well as boost their environmental credentials. In times of climate change, there is literally no alternative to rail freight. There is also no doubt that working in Carinthia
will become a good deal more attractive thanks to the Koralmbahn. An employee of a Carinthian company who lives in Styria, for instance, will be able to reach his or her place of work in no time at all – an incredible plus for knowledge transfer across provincial borders, and of course also for the quality of life of the individual person. In addition, the construction of the Koralmbahn will have a pronounced positive effect on the Carinthian economy, creating countless jobs in the construction sector and thus also attractive incentives for a career in Carinthia.
The Koralmbahn high-speed railway – your ticket to Carinthia and to a successful future
In just a few years from now, travelling on the Koralmbahn will have become routine. Even today, passengers are benefitting from the existing track sections. In specific areas, for instance in south-western Styria, this has already considerably shortened journey times. Thanks to the Koralmbahn, access to the high-tech land of Carinthia is
now within reach for many people. Short journey times, 23 modern train stations and stops create an infrastructural framework for economic impulses and attractive jobs in Carinthia, Austria's much-loved southermost province, with all its scenic and cultural treasures.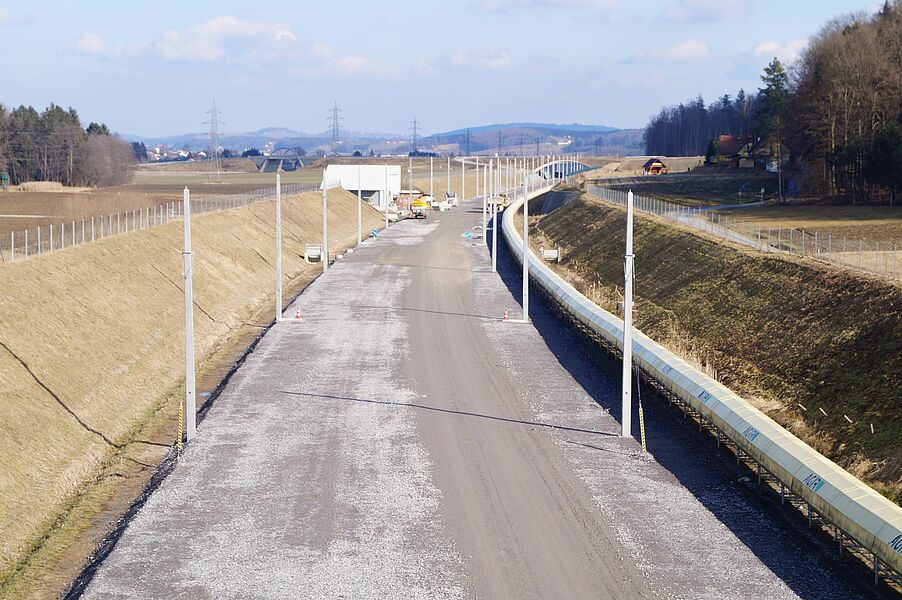 Facts & figures
Route: Graz (Styria) – Klagenfurt (Carinthia)
Distance: 130 kilometres,
47 of them tunnels (of which 33km for the Koralmtunnel)
23 train stations and stops (12 of them along the newly constructed tracks)